The winning essays for Head to Tail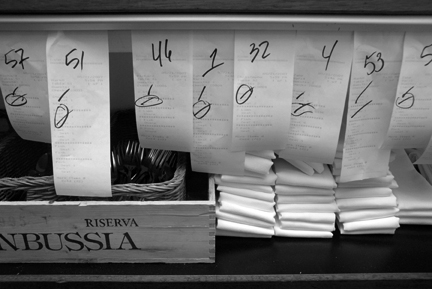 After much request I would like to introduce the winners essays. Enjoy them as much as I did, I look forward to spending more time with both of them in the kitchen.
Derek Dammann
Chef
DNA Restaurant
Montreal Canada
Good afternoon Chef, my name is Derek Dammann and I am chef of DNA restaurant in Montreal. I saw that you are offering an opportunity to stage for your annual Head to Tail dinner. I would like for you to consider me as a candidate. I admire your style of cooking and find that my approach is very similar in the way that you need to take a few steps back before you can move forward. Thinking in an old world way, and bringing back the artisinal traditions that have been forgotten. The "whole animal" philospohy is something that we practice at my restaurant as well. Using the entire animal, is both respectful to the beast, and exciting for us cooks. As well as having the opportunity to allow the customer to try somethings that they may never have had the chance to try before. I find that places with the approach that you have at Incanto offer a dining experience rather that a dinner out and I believe that is the direction that the food world is heading. Having a menu that is interesting, local, interactive and educational, that allows the guest to have fun and not just watch each other eat. That being said, I hope I get the chance to take part in this event. Best regards, Derek
Omar Rodriguez
Sous chef
Oyamel Cocina Mexicana
Comfort Food
Some of the fondest memories from my childhood were derived from my parents cooking. I remember standing next to my father on a hot south Texas summer night as he grilled fajitas, chicken and mollejas (sweet breads). As hungry as I would be for the mesquite grilled meat, the true reward for standing by my father's side and waiting was getting the first hot off the grill pieces of mollejas. I remember taking a sizzling hot piece in my hand, blowing on it to cool it down and then crunching through the crisp mesquite smoked crust and into the warm juicy, buttery center. That was complete heaven for me.
The point I am trying to make with this story is that my childhood has been filled with offal eating. Growing up in a Mexican household meant eating many atypical dishes from most American households, especially offal. For me there are several offal that are comfort food, especially dishes like mollejas, lengua (beef tongue), menudo (tripe stew) and tacos de tripas (intestines).
Another favorite childhood dish was my mother's lengua. She would place the lengua in the oven in the morning, and would not pull it out until she got back from work in the afternoon. I loved coming home from school those days and smelling the rich roasting beef scent permeating throughout the house. My mom would shred the lengua meat and stuff it into corn tortillas with shredded lettuce, chopped onions and my grandmother's home-made salsa.
With the time I have spent in the culinary world I have had many opportunities to learn more about working with offal. Some knowledge has been passed on by other individuals or gained through my own research. I credit the book Charcuterie, as well as any one of Diana Kennedy's books, as inspiration for many of my offal adventures. At Zaytinya in Washington, DC, I had the opportunity to work with Chef Mike Isabella. He demonstrated how to work with items like lamb tongue and brain. He also pushed me to pursue my love for charcuterie, which led me to create a merguez recipe for the restaurant. Last year I left Zaytinya and transferred to one of our sister restaurants Oyamel Cocina Mexicana. Under the tutelage of Chef Joe Raffa I have continued to pursue my love for offal and develop Mexican inspired offal dishes. I have been involved with creating an in-house chorizo recipe, lengua torta (beef tongue sandwich) and my favorite, queso de puerco (Mexican head cheese).
When I discovered Offal Good last year I was so excited that a chef had dedicated a restaurant towards the preparations of offal. It inspired me to experiment more with offal dishes at my restaurant and reconsider what can be cooked for dinner. There is still so much more to learn about offal cooking and I hope to continue to educate myself on the subject. I hope that part of this continuing education will involve the opportunity to assist you and your staff during Incanto's annual Head to Tail dinner.
Offal Notes
Get blog updates by email