Do you have the guts 2.0 WINNERS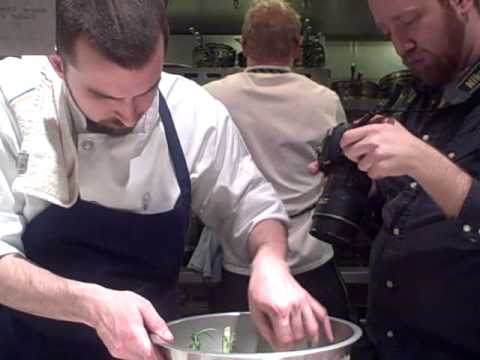 After recieving 50 applicants from all over the US and Canada I have made my final decisions on the 2 stages for this years head to tail dinner at Incanto. This was not an easy decision since there were so many great applicants with great essays and resumes. But there can only be 2 people there is only so much room in our kitchen. Thank you all for your interest in being a part of this annual event just because you didnt get it this time dosent mean you wont get it next year.
Below are the winners names and essays:
---
Michael Hudman chef/partner of Andrew Michael Italian Kitchen in Memphis Tennessee
Hello Chef, my name is Michael Hudman, chef and  co-owner of Andrew Michael Italian Kitchen in Memphis, TN.  I could tell you all about me and where I have worked in the past, but the main thing is I am very passionate about food and especially about nose to tail.  Two years ago I opened my  restaurant with my long time friend and business partner.  We concentrate on bringing the best product we can to our customers.  We are constantly trying to learn more and more everyday.  When I first came across the offal good web site, it blew me away.  There are not many restaurants or books that work offal ingredients or techniques.  We have done a lot of trial and ERROR with offal, your web site has helped us improve. Last year we closed the restaurant down for a week and made a trip out to San Francisco and Napa.  We ate at Incanto twice, the second time we did the Il Quinto Quarto menu and the dinner just stuck with me. (You even waited on a taxi cab for an hour with us, Thanks) It reminded me of the food my grandmother told me about as a kid and the food that we experienced in Italy while in school. At my restaurant we do a Nose to Tail dinner all with Newman Farm pork .  We love pork and  use it as much as we can, we are working on our charcuterie every day. Speaking of, I saw that y'all are making nduja, we  have not had that since we were in Calabria. We are excited about tasting it next time we are in California.  You have definitely inspired me to use more offal and push myself as a cook. It would be an honor to learn from you, thank you for your time and I hope to be able to help you and your staff on this year Nose to Tail dinner.
---
Jonah Resnick  a line cook from Blackbird in Chicago
Cooking and working in a kitchen is a non-stop opportunity to learn and improve techniques on a daily basis. To have the chance to work in your kitchen for a week prepping and cooking the Head to Tail dinner would be one of those times where learning new techniques from you and your crew would be an honor. Eating and cooking offal and whole animal butchery is a passion of mine that I look to improve and get inspired by new ideas whenever the opportunity presents itself through other chefs, books, recipes, and blogs. I have worked in well-respected kitchens in both New York and Chicago so working long hours in the kitchen is nothing new for me. You would not have to be concerned with "baby sitting" me during the week. I would love the opportunity to do whatever was needed of me just keeping my eyes open learning the way you execute the Head to Tail dinner from start to finish. I currently work at Blackbird in Chicago where we focus on locally sourced produce and meats and turning them into upscale dishes. I have been there for a year and a half and have worked my way through all of the stations and continue to improve, learn, and help with menu development. Working for Paul Kahan and Chef de Cuisine Mike Sheerin has had a profound impact on me as a cook, as well as a chef, and I will carry the techniques, ideas, and philosophies on food with me for the duration of my career. However, I believe that traveling, eating, and experiencing other parts of the country and world is an invaluable part of becoming a well-rounded chef and cook. I was lucky enough to travel to San Francisco over the summer and experience the local food culture all over the Bay Area. I was blown away by places like the Ferry Building and the farmers market there, the produce, meat, and seafood available in one place blew my mind. While I was visiting the Bay Area I was lucky enough to eat dinner at Incanto and actually speak to you while eating at the bar. I had a wonderful meal there and really loved what you and your cooks were doing with food. Once I read that there was a chance to come there and cook the Head to Tail dinner I immediately jumped at the opportunity. That being said, please consider me for one of the two available positions to stage during the Head to Tail dinner. You will not be disappointed by my dedication and ability in the kitchen.
Offal Notes
Get blog updates by email