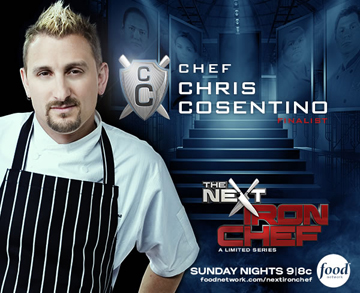 The Next Iron Chef premiers this Sunday, Oct 7th at 9PM/8C. You can watch a preview here:
This reality show is going to outdo all the others. The teaser will give you a glimpse of what it was like–it was fucking hard! (watch and see how often they have to bleep me). The other chefs have huge talent and a ton of experience. It's a great group, and I was honored to compete with them. You can view all of their sites by clicking the names below:
Morou Ouattara of Alexandria, VA
Jill Davie of Los Angeles, CA
Traci Des Jardins of San Francisco, CA
Aaron Sanchez of New York, NY
Michael Symon of Cleveland, Ohio
Gavin Kaysen of San Diego, CA
John Besh of New Orleans, LA
Watch Sunday night as we all get ripped apart by the three esteemed judges; "The Mauler" Andrew Knowlton, "The Brawler" Donatella Arpaia, and "The Stickler" Michael Ruhlman. So, dear readers, place your bets in Vegas, set your tivo or whatever you may use to record, because you don't want to miss this show!
I would also like to thank the staff of Food Network and Triage Entertainment who made this show possible. I can't name you all, but you know I love you (especially you, Bruce).
Offal Notes
Get blog updates by email